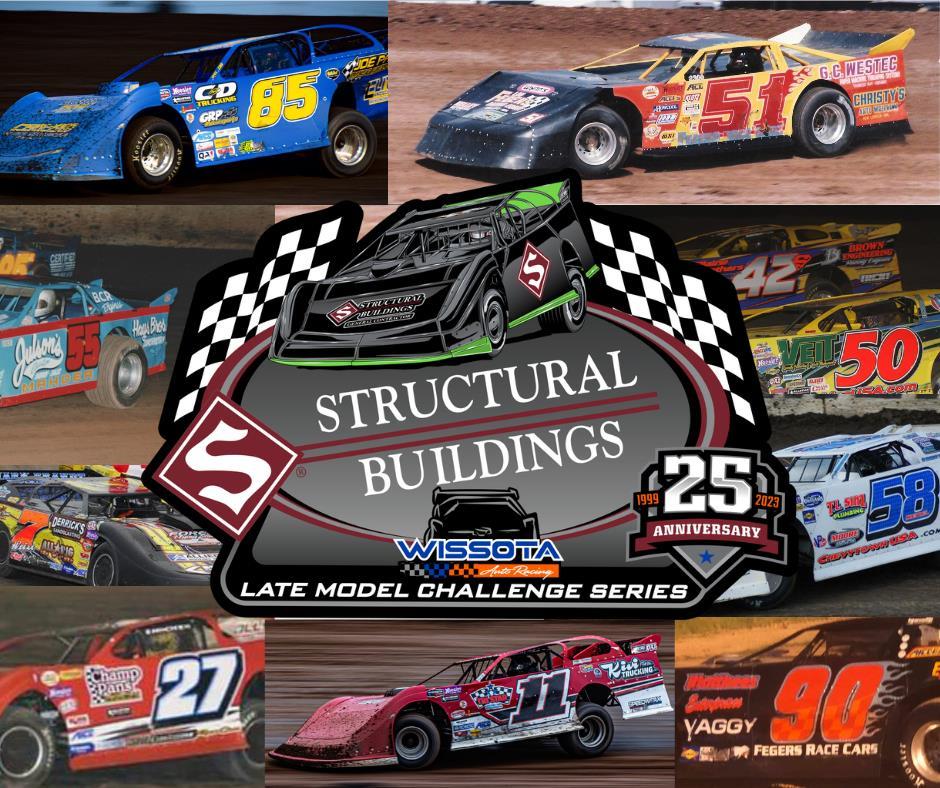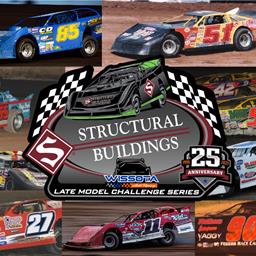 6/1/2023
Wissota Late Model Challenge Series
---
Structural Buildings WISSOTA Late Model Challenge Series Format Changes
Fans and drivers alike will notice several format changes as the Structural Buildings WISSOTA Late Model Challenge Series heads into its 25th anniversary season in 2023.
The first change will see the competitors hot lap / qualify for their heat race lineup positions. Similar to several other touring series in the country, drivers will draw for their heat race group and then during their hot lap sessions, they will be timed via their transponders to set their heat race lineups. Form there, the top four times in each heat will be inverted and from that point, the normal Challenge Series passing points procedures will be in place.
Another change of note will be that the 8 car MyRacePass redraw will go away in favor of the new MyRacePass pole award, rewarding the driver that is highest in passing points after heat race competition, earning themself the pole for the night's feature race. This format will take place at 16 of the scheduled series events. The standard 8 car MyRacePass redraw will still be in effect at both Hope Kids Nights, the Mahder 55 and Championship Night at the Speedway Motors WISSOTA 100. Several special events will feature an out of car introduction this season as well.
Several other changes on tap for this season are as follows: heat races will be a standard 10 laps in distance (changed from 12 laps in previous years); b-mains will be a standard 15 laps in distance (changed from 15 or 20 in years past); the top 16 in overall passing points will transfer directly to the feature from heat races (changed from 18 in past years); cris-cross re-alignment will take place in all races, regardless of how many laps are completed or remaining (changed from moving rows straight up in some instances in previous years); all restarts will be in a start zone this year; restarts after white flag is displayed will be a one lap race to the end where the green and white will be displayed together (changed from green-white-checkered in previous years); once a car is lapped he or she will remain lapped for the remainder of the race unless they unlap themselves (changed from lapped cars get their lap back at the next caution); and the jump start rule has been updated to state that if a car jumps on an original start, the caution will come out and he or she will be docked 2 positions (1 row) form where they were originally scheduled to start and if a car jumps a Delaware restart, the yellow will not be displayed and he or she will not be penalized 2 positions until the next caution, or the end of the race, whichever happens next. (changed from penalized at the pay window in years past).
We are excited to get the 25th anniversary started this weekend!
---
Submitted By: Camryn Sullivan
Back to News