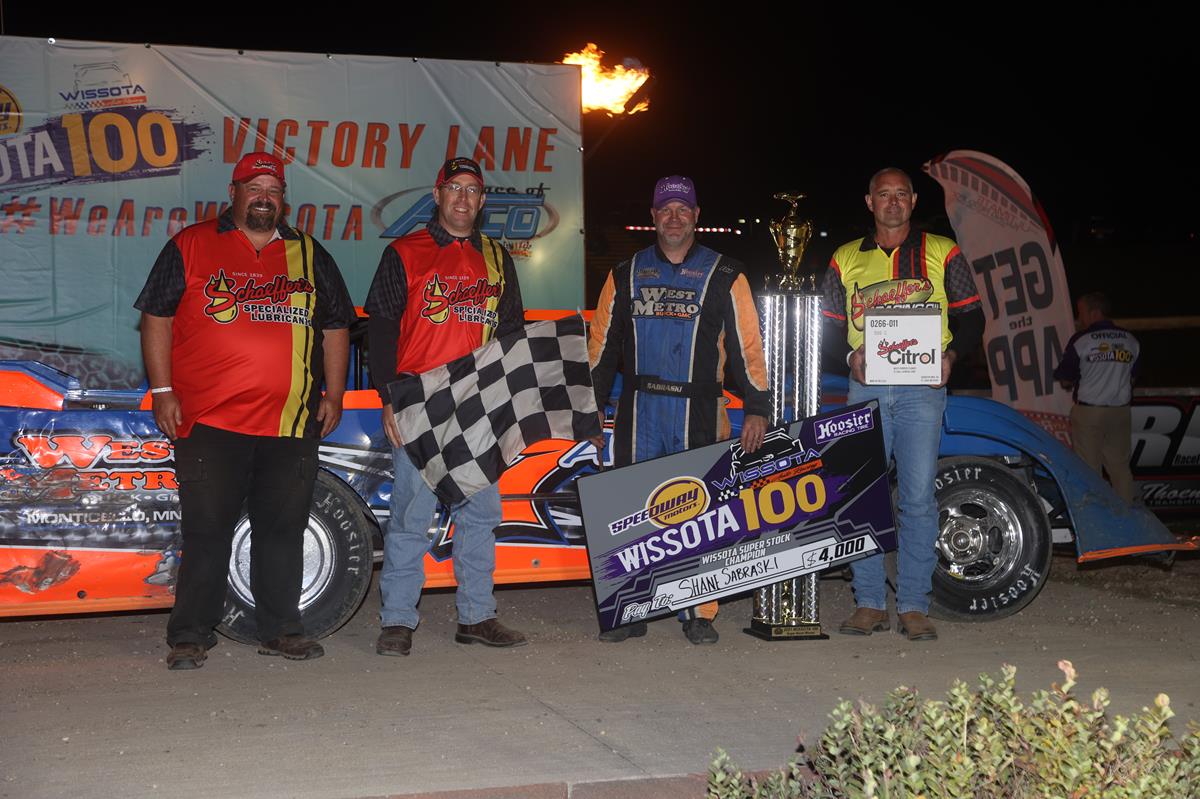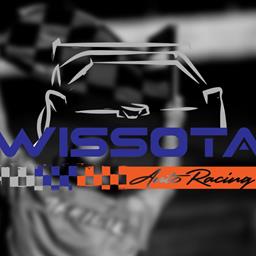 ---
2021 Speedway Motors WISSOTA 100 Super Stock Champion - Shane Sabraski
By Tony Steuck
All The Dirt! Racing News
FERGUS FALLS, MN (September 18) - The WISSOTA 100 Super Stock feature
turned out to be a heavyweight bout - Kevin Burdick came out swinging,
but ultimately Shane Sabraski delivered enough blows to become the
champion Saturday night. Sabraski, of Rice, MN, took the lead just after
halfway and cruised to a $4,000 payday and his first-ever WISSOTA 100
Super Stock title.
Burdick grabbed the lead when the 33-car Super Stock field roared to
life. Dan Nissalke settled into second early ahead of Brandon Duellman,
Sabraski and Dexton Koch. Duellman moved around Nissalke for second and
Sabraski followed suit. The two battled for position and Koch was the
next to challenge Nissalke.
Sabraski continued to march forward and was second on lap seven; he gave
chase to Burdick. Duellman had to contend with Nissalke and Koch to
remain in third over the next few laps before a caution with 10 scored.
Burdick and Sabraski broke away from the pack when the race resumed.
Burdick ran in the middle groove while Sabraski tested the water down
low. Nissalke and Koch now battled for third while Duellman dealt with
Tim Johnson for the final top five slot. Burdick crept away from second
place before a pair of caution with 13 laps in; they were the final
yellow flags in the race.
Sabraski continued to work to the inside of Burdick when the race
resumed. Burdick slipped away after a few laps, but Sabraski lit the
wick at the crossed flags. He tested a groove to the outside of Burdick
for a lap, then dropped back to the bottom, charged into turn three on
lap 21, and made slight contact with Burdick as he passed him for the
lead. Sabraski slipped away and was into traffic with 10 laps to go.
Burdick remained second, but had both Koch and Duellman on him while
they worked traffic. Tim Johnson was fifth a long distance back from the
car ahead of him, but he lost the spot to Jim Gullikson with 10 laps to
go. Burdick had a brief respite in the battle for second, but Koch was
on him again before the race ended. Koch made an inside pass for second
with five laps to go.
Sabraski took the checkers for only his third WISSOTA 100 title - his
first two came in 2006 at Brown County Speedway in both the Modified and
Midwest Modified divisions. Koch claimed second and Burdick earned the
final spot on the podium. Duellman held on for fourth and Dave Mass made
a pass in the final laps for fifth. Gullikson was sixth ahead of Trevor
Nelson, Scott Lawrence, 24th-starter Dustin Nelson and 21st-starter
Jacob Knapper.
Before the main event, there was one race left to determine the six
final starting spots. Jeff Flaten led early in the last chance race
while Karter Reents looked to his inside. Kevin Schmidt ran third and
Austin Niemeyer was fourth before Niemeyer spun on the second lap.
Reents raced with Flaten in the middle stages of the race, but Flaten
slipped away late. Schmidt finished third with Jeffrey Frey fourth and
Trent Brutger fifth. Bailey Rosch finished in the sixth and final
transfer spot, but had to deal with runs from both John Farrington and
Jordan Henkemeyer in the final laps.
---
Submitted By: Carson Gramm
Back to News