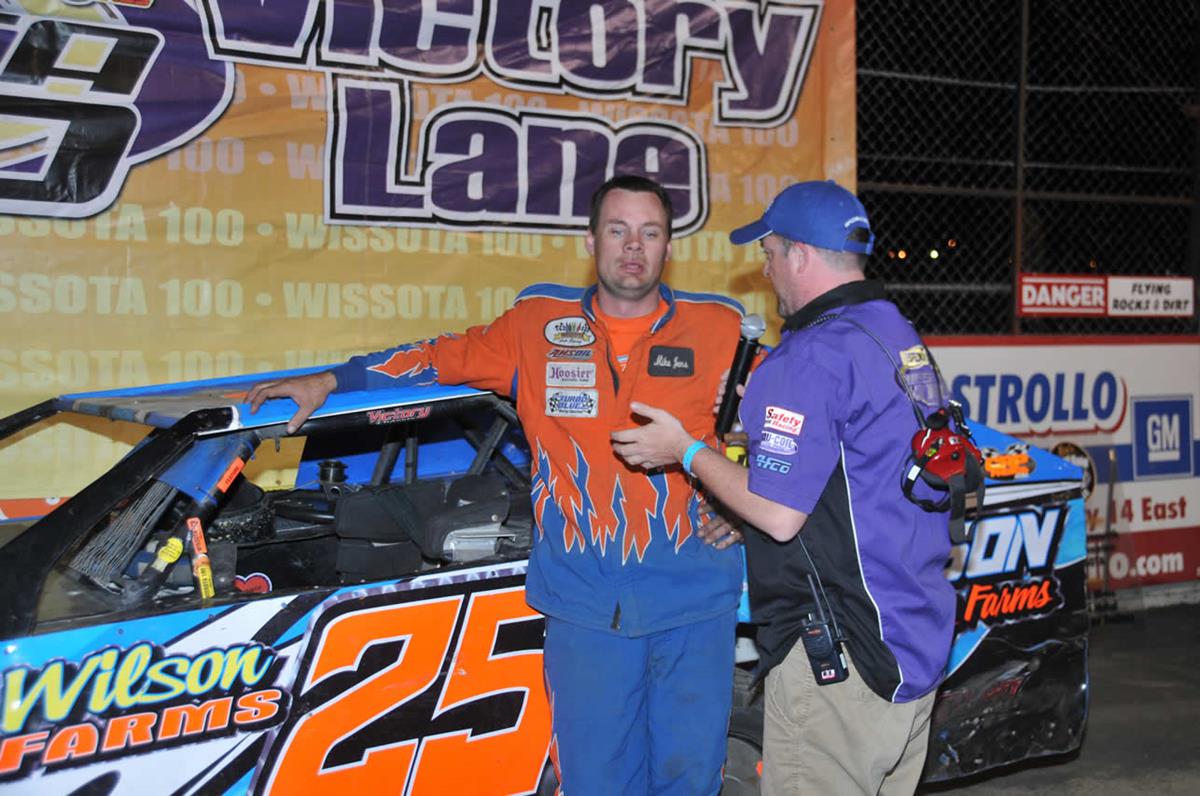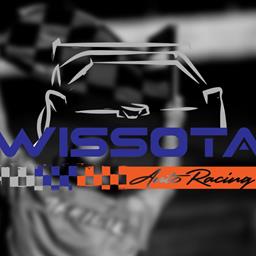 ---
2016 Speedway Motors WISSOTA 100 Championship Night
Don Shaw prevailed in the Late Model division on championship night at the 2016 Speedway Motors WISSOTA 100. One of three drivers to lead the night's feature event, Shaw had to chase down Jeff Wildung to recapture the lead, then had to hold him off in lapped traffic to take the $10,000 victory.
Wildung, Scott Ward and Shaw started on the front row ahead of Lance Matthees, Brian Diede and Zach Johnson. Contact among the first three on the opening circuit wrinkled up the right rear of Ward's #37, but Kelly Duffy went for a spin into the infield in turn three before the lap was completed and officials had to restart the 33-car field.
Ward had the point for the Delaware-style restart and the defending event champion shot ahead of Shaw, Wildung, Johnson and Matthees when the green dropped. Wildung and Shaw were door to door for second with Matthees on their tail and Johnson next. Curt Gelling took sixth from Casey Meyer.
Shaw drove his car in deep under Ward in turns one and two for the lead and was fully clear of the early leader when they emerged from turns three and four. Once free and clear, Shaw dropped the hammer and pulled away from Ward. Wildung reeled Ward in and put him back another spot a lap later. They were five laps into the contest.
One lap later Shaw was into lapped traffic as he set a blistering pace. Doug Walsh went a lap down to Shaw as Wildung, Ward and Matthees diced it up for second place. Brian Diede closed on those three as well in the early going. Shaw managed to put two lapped cars between his #42 and Wildung, who had secured second place. Behind him, Ward and Matthees continued their fight for position. There were 10 laps in the books and the way it was shaping up, it looked like Shaw was going to decimate the field.
But restarts have a way of changing things, and that was the case when Diede and Matthees made contact in turn three; Diede's car was upset and spun although the contact was light. Diede was sent to the rear of the field.
The restart cleared the track for Shaw with 12 laps complete and 28 remaining, but it also took away the lapped cars he had as a cushion on Wildung.
On the restart, Wildung went to the outside of Shaw and the battle was back on. The two familiar foes criss-crossed the track and swapped grooves for the lead before Wildung bounded out front with the lead. The top two pulled away as the lap board counted down to 25 remaining and Wildung quickly built a 10 length lead. This time it looked like the #50 would be the easy winner, but there was lots of racing left.
The top five ran varied grooves with Wildung on the cushion, Shaw on the bottom, Ward up top along with fourth place Gelling. Fifth-place Matthees was down in the ditch like Shaw.
With 22 laps to go, Wildung led the way into lapped traffic. Shaw quickly closed among the slower cars and suddenly he went back out front. Wildung got caught behind four slower cars that were running in two side-by-side groups and it cost him a lot of ground.
With 16 laps left, Shaw led Wildung, Ward, Gelling, Kent Arment and Matthees – who were battling for the fifth spot. After contact between them, Matthees moved ahead.
Shaw and Wildung had a comfortable distance on Ward while they raced through lapped traffic. Matthees closed on Gelling and the two reeled in Ward as the lap counter would down to 12.
The laps clicked by – nine to go, six to go, five to go – and in that span, Wildung closed a little on Shaw. With a group of cars in front Shaw with four laps on the board, Wildung was back to Shaw's back bumper. Shaw and Wildung passed the flagstand with five lapped cars directly ahead. Shaw charged into turn one above a lapped car and Wildung went all the way up top. Coming out of turn two, it looked like Wildung had the run he needed to slingshot past. But as the groove narrowed, the two cars came together very briefly and Wildung was forced to lift or hit the wall. He lifted as Shaw dashed past a couple of the lapped cars. In spite of that late episode, Wildung fought back and with a final push he finished right on Shaw's bumper as they went past the checkered flag surrounded by lapped cars.
Ward and Gelling, local drivers from Watertown and Aberdeen and crowd favorites, finished third and fourth with Matthees fifth. Johnson, 14th-starter Chad Becker, Arment, David McDonald and 21st-starter Cole Schill rounded out the top 10.
Shaw and Wildung both reflected on their battle in victory lane interviews and Shaw commented on the freshly prepared track as well. "It was really fast those first few laps, then it really mellowed,"?he said.
That may be true, but the action never mellowed and the huge crowd was treated to a great race and a thrilling finish in WISSOTA's top division.
At the pit meeting Saturday, three driver names were drawn from those who had not yet qualified for the feature, and they were awarded with starting spots in row 11. Those three drivers were Trevor Walsh, Rayce McCord and Blake Swenson.
Earlier in the program, six other drivers earned spots on the feature grid by finishing up front in a last chance qualifier. Those six were Josh Skorczewski, Lohn Lighthizer, Donavon Sorenson, Chris Dunn, Quentin Myers and Doug Walsh. Those six made up rows nine and 10 for the start.
SUMMARY
WISSOTA Late Models:
Feature – Don Shaw, Jeff Wildung, Scott Ward, Curt Gelling, Lance Matthees, Zach Johnson, Chad Becker, Kent Arment, David Mcdonald, Cole Schill, Shane Edginton, Jeremy Keller, Jeff Provinzino, Shawn Meyer, Casey Meyer, Eric Mass, Jordan Heiman, Josh Skorczewski, Quentin Myers, Kelly Duffy, Lyndon Bolt, Donavon Sorenson, Mike Jager, Chris Dunn, Rayce McCord, Blake Swenson, Trevor Walsh, Doug Walsh, Troy Daly, Dustin Arthur, John Lighthizer, Matt Gilbertson, Brian Diede
Last Chance Qualifier – Josh Skorczewski, John Lighthizer, Donavon Sorenson, Chris Dunn, Quentin Myers, Doug Walsh, Scott Daly, Kinzer Mccord, Rich Thomas, Chad Williamson, Tyler Lamber, Curt Kranz
Adams earns ninth WISSOTA 100 title in 2016 Modified action
By Scott Hughes
All The Dirt! Racing News
HURON, SD (September 17) – Kevin "Buzzy" Adams scored the ninth Speedway Motors WISSOTA 100 title of his racing career Saturday at Dakota State Fair Speedway when he topped the championship feature with his #40 WISSOTA Modified. He won $6,000 for his efforts, but even that huge payoff was dwarfed by the $10,000 he scored earlier in the evening when his name was drawn as winner of Orv's Pot Of Gold.
Adams won his qualifying feature on Thursday and in doing so joined Dave Cain on the front row for the championship feature Saturday along with Friday qualifier winner Kevin Eder.
Adams had the outside row for the start – his favorite spot at DSFS – with Cain on the inside and Eder in the middle. Adams and Eder shot out to the lead when the green flag flew in the 30-lapper. Kent Arment started behind Adams on the grid and he also got in front of Cain at the outset. Last-row starter Kyle Thell dropped out of the contest in the opening laps without causing a caution.
Four laps into the contest, Arment shot under Eder and the two ran door to door, then swapped lanes at the other end of the track and continued their battle for second place. Adams ran alone out front; he ran the top of the track through turns one and two while at the other end, he entered turn lower, drifted up into turn four, caught the cushion and rocketed down the front straight. He ran away from the rest of the field.
Eder escaped from Arment and the top 10 drivers spread out around the high banked oval. They cranked out a bunch of fast, clean laps on the big track. On lap 10, Adams put Chaun Peterson down a lap. Directly ahead, Jayson Good and Troy Berends were side by side. Adams chased them down and found a hole to get past them.
Meanwhile, Cain picked up the pace, challenged and passed Arment. A short time later, Arment fought back ahead. Arment ran the bottom and Cain the top as they raced each other and chased runner-up Eder. Suddenly, Tyler McDonald drove up on Cain and Arment slowed with a flat tire. A car spun in turn two at the same time and the yellow was displayed. Arment's crew changed the tire in the infield and he returned to action at the tail.
With more than two-thirds of the race in the books, Adams led the field back to the green flag in clean air. Nine laps remained; Eder was second followed by Cain, McDonald, Johnny Broking, Ryan Mikkelson, Brett Hoium, Dan Ebert, Kevin Stoa and Matt Gilbertson.
Twenty-nine of 33 starters were still on the track for the Delaware-style restart. Cain got a great restart and bolted past Eder on the bottom. Adams stretched out to a safe lead and although Cain tried to catch him in the final handful of laps and closed in some, he didn't have time to get it done.
Adams scored the feature win followed by Cain and Eder. McDonald and Broking rounded out the top five. Hoium, Zach Johnson, Gilbertson, Mikkelson and Stoa, racing the second car from the Cain stable, completed the top 10 at the finish.
Adams' second-place finish to Morgan Ward in Thursday's heat race, before he went on to win that night's qualiyfing feature, was the only blemish during a weekend in which he won approximately $18,000.
He said, "I was a little more hungry this year."
Earlier on Saturday, nine drivers were added to the starting grid for the championship feature. The drivers in the first eight rows had qualified through heats on Wednesday, Thursday and Friday. Saturday, three drivers were drawn from all those who had not yet qualified and they got to start in the last row; those there were Thell, Berends and Brian Haben.
In addition, a last chance qualifier was run prior to Saturday's feature and the top six in that race made up rows nine and 10 in the night's main event. Those six were Mike Jans, who raced in three divisions (fourth in Street Stocks, first in Midwest Mods), Trevor Anderson, Dustin Nelson, Good, Peterson and Tom Silver.
SUMMARY
WISSOTA?Modifieds:
Feature – Kevin Adams, Dave Cain, Kevin Eder, Tyler Mcdonald, Johnny Broking, Brett Hoium, Zach Johnson, Matt Gilbertson, Ryan Mikkelson, Kevin Stoa, Kent Arment, Denis Czech, Daniel Ebert, Scott Ward, Danny Vang, Chad Olsen, Alex Guthmiller, Tim Johnson, Morgan Ward, David Carlson, Troy Berends, Brian Haben, Jayson Good, Trevor Anderson, Dale Ames, Dustin Nelson, Chaun Peterson, Nick Grehl, Mike Stearns, Tom Silver, Mike Jans, Kyle Thell, Donald Eischens
Last Chance Qualifier – Mike Jans, Trevor Anderson, Dustin Nelson, Jayson Good, Chaun Peterson, Tom Silver, Donavon Sorenson, Chris Prussman, Mike Storck, Duke Erickson, Arne Anderson, Ryan Engels, Scott Hansen, Aaron Olson, Jason Anderson, Justin Boomsma, Ryan Pommerer, Casey Skyberg, Tim Jackson, John Kaiser
Mass fight off Myers for 2016 Super Stock title at WISSOTA 100
By Scott Hughes
All The Dirt! Racing News
HURON, SD (September 17) – The WISSOTA Super Stock feature at the 2016 Speedway Motors WISSOTA 100 was an exercise in patience for the huge crowd on hand for championship night Saturday. Dave Mass led all the way for the win but Curt Myers, the current national point leader, defending national champion, and defending event champion, made him work very hard for it in the end after a race filled with caution flags.
Nearly half of the cars on the starting grid were out by the time Mass accepted the checkered flag with Myers' nose tucked up under his bumper.
Mass' front-row partners, Tim Johnson and Jeff Brauer, actually got the jump on the original three-wide start, but that had to be waved off after a grinding crash at the entry to turn one right after the pack accepted the green flag. Officials lined them all back up double file with Mass and Johnson on the front row and once Mass powered to that initial lead, he never gave it up again.
Brauer immediately challenged Johnson, however. Those two, along with Myers and Eric Martini, stayed in close formation as Mass raced away on a very fast, tacky race track. They rattled off a bunch of quick laps, which looked promising.
Johnson held off Brauer's challenges for second as Mass approached lapped traffic seven laps into the 30-lapper. Mass put Jeff Flaten a lap down and had a big lead when the yellow flag dropped on lap nine for two cars stopped on the back chute, just before the turn three pit entrance.
Mass paced the field on the Delaware-style restart and Brauer picked off Johnson with a low dive in turns one and two. He then drifted up the track once clear to secure the spot. Martini and Myers then jumped all over Johnson as well.
The yellow flag got a workout again two laps later after Casey Hanson was left spun in turn four. On the restart with 19 laps to go, Mass led Brauer and Johnson, then Martini ahead of Myers. Dustin Nelson, Casey Steffenson and Alex Wolff were next in line ahead of Deniz Czech, Andy Davey, Jeremy Meirhofer and Kelly Duffy.
Johnson surged back past Brauer for second after the restart and suddenly Myers' #1M really roared to life. Myers drove right past Brauer and cued up Johnson. They were even at the flagstand on lap 13. Czech was also a big mover in that short span and he brought the #2* car up to fifth behind Mass, Myers, Johnson and Brauer. The caution then flew for Justin Hedtke, who was spun to the infield banking in turn two.
There were 16 laps left on the board for the restart. Two more caution flags fell before another good restart. Myers caught a break because on the second attempted restart, he drove too hard into turn one and got too high, which allowed Czech and Johnson to blast past. A caution fell immediately for others, however, and when the field was realigned, Myers remained in second behind Mass.
The two leaders went to the high side on the new green followed by Johnson and Czech, then Brauer. Myers looked under Mass in turns three and four, where he was able to get a great run in the low groove, but Mass had the momentum to stay in front. A few laps later, Myers got further under Mass in turns three and four and did it again in turns one and two, and the leader took notice.
Mass dropped to the bottom groove to protect his lead but a yellow again interrupted the action. Eleven laps remained.
Brauer and Czech continued to fight for fourth place and Mass pulled a bit away from Myers under the new green. Myers likewise had some breathing room over Johnson for a lap or two before the next restart. The field was set up again and took the green, but that was waved off for debris on the front chute. After those two bad restarts, the next one worked out and the remaining cars put out another green flag lap before the next yellow dropped for a six car pileup out of turn two.
Mass made the decision to protect the bottom as the field took the green with six laps to go. Myers went up top to counter him and nearly pulled off the pass the first time around; then Myers got too high in turns three and four and lost a little ground. With three laps left, Martini dropped off the pace and headed to the infield. Davey had kept after it and was up to sixth before Martini dropped off the pace and handed him fifth. Lucas Plank, who started 18th, was right behind Davey.
The Super Stocks had been on the track for an hour.
Ben Johnson's spin led to the final caution with two laps remaining.
The restart order was Mass, Myers, Brauer, Johnson, Davey and Plank in the top six spots. Mass went back to the top for the restart and Myers, who had seemed to gain momentum throughout the race, took a shot underneath. Mass was flawless over the final two laps, however, and took the checkered with Myers tucked up under the back of his car.
Davey charged past Johnson near the end to finish his run in fourth and both Dustin Nelson and Ryan Fasching were able to drive past Plank at the end of his good run.
The top five were Mass, Myers, Brauer, Davey and Johnson, while sixth through 10th were Nelson, Fasching, Plank, Jamie Neumiller and Meirhofer.
The first eight rows on the starting grid had been set through heat races on Wednesday, Thursday and Friday. Drivers who hadn't earned a spot by Saturday were given a chance to get in the main event on Saturday. First, there was a drawing for three names at the pit meeting; those were for the final three spots in row 11, and the names drawn were Brandon Tingle, Flaten and Johnson.
The top six finishers from a last chance race, held prior to the parade of champions and features, made up rows nine and 10 of the feature grid in each class. The top six in the Super Stock last chance race were Joel Henkemeyer, Beau Brown, Justin Hedtke, Kevin Hager, Matt Fester and Chris Walker.
SUMMARY
WISSOTA Super Stocks:
Feature – Dave Mass, Curt Myers, Jeff Brauer, Andy Davey, Tim Johnson, Dustin Nelson, Ryan Fasching, Lucas Plank, Jamie Neumiller, Jeremy Meirhofer, Alan Dorris, Cole Searing, Brandon Tingle, Kipp Degroot, Ben Johnson, Chris Walker, Kevin Hager, Eric Martini, Casey Hanson, Alex Wolff, Jeff Flaten, Kelly Duffy, Beau Brown, Casey Steffenson, Denis Czech, Dustin Bluhm, Jordan Tocci, Matt Fester, Justin Hedtke, Cory Tammen, Joel Henkemeyer, Nick Guthmiller, Jeremy North
Last Chance Qualifier – Joel Henkemeyer, Beau Brown, Justin Hedtke, Kevin Hager, Matt Fester, Chris Walker, Tony Falkner, Dave Brooker, Kolten Young, Dylan Kromschroeder, Kurt Becken, Corey Aga, Kevin Aga, Howard Hunter, Jr., Patrick Lamere, Andrew Hedtke, Shawn Malsam, Trevor Nelson, Clint Jensen, Russell Hoffer
Jans tops biggest division, goes home with WISSOTA 100 Midwest Mod title
By Scott Hughes
All The Dirt! Racing News
HURON, SD (September 17) – Mike Jans narrowly missed a podium finish in the WISSOTA Street Stocks Saturday night, but the three-division driver came back right afterward to topple a strong field of 33 WISSOTA Midwest Modifieds on championship Saturday at the 2016 Speedway Motors WISSOTA 100.
Jans started on the pole alongside Jeremy Nelson and Chad Olsen for the 25-lap feature and Nelson got the jump from the middle row to take the initial lead. However, that was a short-lived advantage because the yellow flew after two cars ended up spun up by the turn three wall. A double-file restart was used to get the field back ready for racing.
Nelson again got a good start and left Olsen and Jans to fight for second place. Tim Kanten and Scott Hansen ran in their tire tracks. Jans went to the top of the track to secure second place and Kanten did the same; he challenged Olsen for third on the second lap.
Jans was all over Nelson for the lead for the next couple of laps, and Jans shot to the lead on lap four. Kanten broke free from Olsen and secured third, then set off after Nelson as well. Right behind, Brock Hess, the seventh starter, raced into fourth place with some strong moves. Hansen had been shuffled back to fifth and Olsen a spot behind him. Tracy Johnson was seventh. Jans and Nelson stretched it out up front and left Kanten alone in third.
On lap seven, Olsen got back past Hansen and put Hess in his sights. Johnson was all over Hansen as well when the yellow flew for Shawn Fernkes; it was the second caution credited to him, so he left for the pits.
On the restart with 17 laps to go, Jans led in Delaware-style with Nelson and Kanten in row two followed by Hess and Olsen, Hansen and Johnson, Mike Nichols and Brad Kopecky. Adam Brotherton's front chute spin on the restart negated Kanten's bold turn-one move for the lead and forced another attempt. Seventeen laps remained on the board.
Kanten repeated his deep dive into turn one on the new green but Jans and Nelson fought right back to keep ahead of him. Jans and Nelson continued in their high and low groove, respectively.
Kanten finally made a move on Nelson stick and started using the low line in turns three and four. He seemed to get better as the event wore on.
But so too did Johnson, who surged up to fourth place with 15 laps to go, then rocketed into third a lap later. Nelson continued to work the bottom line as hard as he could to keep pace, but he was in fast company in that lead pack.
As Jans began to check out, Kanten, Johnson and Nelson had a great three-car battle. Kanten and Nelson went to the top of the track and Johnson dropped to the bottom. With 11 laps to go, Kanten got a little bit of an advantage but Nelson and Johnson were engaged in a lane-swapping slugfest at each end of the track. As they entertained the fans, Jans motored on uninterrupted with the lead.
Shane Halopka, who started 18th, drove past Hess then challenged Olsen for fifth with 10 laps remaining. Mike Nichols was eighth, but a long way back from Hess. Olsen, Halopka and Hess closed the gap a little on Nelson over the next several laps.
Kanten continued pushing hard and closed the gap on Jans; Johnson did the same with Kanten. Jans was way up top on the big track and had lapped traffic on the horizon with six laps left.
Two laps later, Jans picked off Britt Williams at the back of the field, and Kanten was just two car lengths behind the leader. However, Jans had it covered and raced to the win. Kanten joined him in the victory lane celebration, held on the concourse among the fans, and so did third place Johnson. Nelson and Olsen rounded out the top five followed by Halopka, Hess, Hansen, D.J. Tesch and Nichols.
It was a very strong and determined drive for Jans, who also competed in the Street Stocks and Modifieds during the weekend.
"This is the biggest special by far for me,"?he admitted after the win. "It surprised me when he (Nelson) went to the bottom at the start. My eyes got really big!"
As usual, the Midwest Mod division had the largest car count of any division over the weekend and had the most heats each night of qualifying. On Saturday, six drivers who hadn't yet gotten into the big show through heat races made it by finishing up front in a last chance qualifier.
Kyle Knouse, Randy Laage, Troy Leiker, Jamie Neumiller, Cory Asmussen and Darin Hauff got over that final hurdle and made up rows nine and 10 on the feature grid. In addition, Scott Harrington, Mike Rohwedder and Williams lined up in row 11 after having their names drawn at the pit meeting prior to Saturday's races. The drawing included the names of all drivers who had not yet been able to qualify for the big show.
SUMMARY
WISSOTA Midwest Modifieds:
Feature – Mike Jans, Tim Kanten, Tracy Johnson, Jeremy Nelson, Chad Olsen, Shane Halopka, Brock Hess, Scott Hansen, D.J. Tesch, Mike Nichols, Brad Kopecky, Lorin Johnson, Jamie Neumiller, Eric Martini, Randy Laage, Eric Mass, Adam Brotherton, Lucas Rodin, Dustin Bluhm, Kyle Knouse, Cory Asmussen, Brennon Weight, Lane Johnson, Darin Hauff, Mike Rohwedder, Jay Will, Camden Myers, Britt Williams, Brock Gronwold, Shawn Fernkes, Kyle Harkin, Troy Leiker, Scott Harrington
Last Chance Qualifier – Kyle Knouse, Randy Laage, Troy Leiker, Jamie Neumiller, Cory Asmussen, Darin Hauff, Corey Storck, Kenny Mayer, Brian Bachmann, Shawn Reed, Cody Daly, Tyler Myers, Scott Tofte, Aaron Michel, Jason Hoffman, Cole Dejong, Kyle Carter, Spence Pollock, Josh Jensen, Justin Froemming
Tollakson takes down toughest Street Stock rivals at WISSOTA 100
By Scott Hughes
All The Dirt! Racing News
HURON, SD (September 17) – WISSOTA Street Stock drivers from as far east as Medford, Osseo and Cameron in Wisconsin, and as far west as Deer Lodge and Belgrade in Montana, wrote a thrilling end to their Speedway Motors WISSOTA 100 feature on Saturday at Dakota State Fair Speedway. After a thriller of a 25-lap contest, Jordan Tollakson, the defending national champion and two-time defending event champion, claimed his third straight WISSOTA 100 title.
Tollakson had the pole for the three-wide, 33-car championship feature and when it began, it looked like he had clear sailing. That all changed near the end, however.
Tollakson and outside front-row starter Jonny Carter got the jump on Justin Vogel, who started in the middle of the front row. Tollakson and Carter circled the track side by side with Vogel and Justin Tammen side by side and right in their tire tracks. Tim Johnson, who started right behind Vogel, gave chase followed by Leonard Ferguson, Travis Robertson, Mike Blowers and Maria Broksieck.
With three laps down, Tollakson broke free from his challengers and raced to a thin lead over the fast, clean-running field of cars. Carter reeled Tollakson in on the fifth lap and took a peek, but couldn't muster a pass. He remained about two lengths behind the leader. Ferguson, a driver from Rapid City, SD, looked very strong with some of the biggest names in WISSOTA Street Stock racing after he started 12th, and Jim Gullikson, who started in the third row, passed a few cars quickly and had the look of a major player as the race unfolded.
Chris Serr became the first casualty when he dropped out with 17 laps to go.
With half the race in the books, 32 cars remained on the track and Tollakson looked comfortable out front; he hadn't been seriously challenged since the opening lap or two. Behind him, things began to take shape after a restart with 13 laps to go. Broc Stout nailed the turn three wall and Cory Dykhoff spun to avoid a major collision.
Tollakson led the Delaware-style restart with Carter and Vogel in his tracks. Johnson launched past Tammen on the restart for fourth and Blowers made a big inside move that netted him several positions as well. After another quick restart for debris, Hunter Carter dropped out. On the next green flag, Vogel and Carter split Tollakson inside and out and it was three-wide for the lead. Tollakson fought them off and just when it looked like he might get a breather, Gullikson pulled alongside Carter for third. They traded the spot several times while Tollakson sprinted a few lengths ahead.
Blowers dropped out of the contest around that time.
In the heat of battle among the top three, Vogel got into Gullikson and tore up the right front fender on his car. It didn't slow him down, but a restart was called shortly after, with eight laps remaining.
Twenty-seven cars were still on the track as the field was realigned. Officials pulled the loose body work from Vogel's machine for safety purposes under caution.
Tollakson had been running right through the middle of the race track as he led. On the restart, Gullikson blasted to the cushion in turn one and pulled even with Tollakson down the back straight. Johnson did the same thing to Vogel and took away third. Johnson quickly attacked Tollakson as well, and Mike Jans, a fourth-row starter, joined the lead battle in the #73 car. He shuffled Vogel back and Dustan Davis came along with him. With a handful of laps remaining, Gullikson led Tollakson, Jans, Johnson, Carter, Davis and Vogel.
A lap later, with four circuits on the board, Tollakson went back past Gullikson for the lead and Gullikson got too high in turns one and two. He lost ground and barely kept Jans and Johnson at bay. Tollakson put his #32 on the cushion out front. Carter closed on Johnson and fought him for fourth place as the laps wound down.
At the white flag, the order was Tollakson, Gullikson, Jans, Johnson and Carter, and just as the flagman was poised to produce the checkered flag, two cars spun in turns three and four to the edge of the infield.
The yellow was displayed instead of the checkered flag; the restart called was a green-checkered, one-lap sprint.
Tollakson took off one final time when the green reappeared and raced to the win. Behind him, however, it was a thriller on the last circuit. Gullikson maintained second place but Carter overtook both Johnson and Jans on the last trip around the DSFS oval to get a podium finish in third. He wasn't the only one; Travis Robertson restarted eighth for the last lap sprint but bounded up to fifth in the final rundown.
The top five were Tollakson, Gullikson, Carter, Jans and Robertson, followed by Davis, Kolby Kiehl, Tammen and Sam Fankhauser in sixth through 10th.
Tollakson will be moving to the WISSOTA Late Model division in 2017, so his third straight WISSOTA 100 title was a great way to cap his career in the class. "We must like this place,"?he said. "We drink a lot of beer and have a lot of fun here."
By winning his heat race, qualifying feature and the AFCO Race Of Champions in his class, Tollakson earned a $2,000 bonus to go with his $2,000 winner's purse.
Earlier in the night, there had also been a last chance qualifier for a limited number of Street Stock drivers who hadn't yet raced their way into the championship feature. The top six transferred to the championship feature. They were: Cory Craver, Cole Phillips, Ryan Satter, Cory Dykhoff, Hunter Carter and Michael Knudtson. In addition, three drivers who hadn't yet qualified after three nights, but whose names were randomly drawn at the pit meeting, made up row 11 in the championship feature. Clifford Houser, Shawn Teunis and Dwayne Fowler were the three.
SUMMARY
WISSOTA Street Stocks:
Feature – Jordan Tollakson, Jim Gullikson, Jonny Carter, Mike Jans, Travis Robertson, Tim Johnson, Dustin Davis, Kolby Kiehl, Justin Tammen, Sam Fankhauser, Ryan Satter, Cole Phillips, Leonard (Willie) Ferguson, Warren Pourier, Troy Murner, Cory Dykhoff, Michael Knudtson, Dwayne Fowler, Shawn Teunis, James Tandeski, Clifford Houser, Rodney Hunter, Justin Vogel, Ben Albertson, Blayne Baloun, Maria Broksieck, Cory Craver, Cody Kummer, Mike Blowers, Brock Gronwold, Hunter Carter, Broc Stout, Chris Serr
Last Chance Qualifier – Cory Craver, Cole Phillips, Ryan Satter, Cory Dykhoff, Hunter Carter, Michael Knudtson, Ryan Pommerer, Adam Burrows, Durand Peterson, Dallas Whiting, Jr., Jim Williams, Landan Davis, Andrew Rossow, Robert Petroff, Ryan Nelson, Eric Riley, Michael Bogh, Lyle Ferguson, Justin Pogones, Tyler Lamb, Derek Rieck
Thell dominates WISSOTA 100 Mod Four competition
By Scott Hughes
All The Dirt! Racing News
HURON, SD (September 17) – WISSOTA Mod Four driver Keith Thell, the defending national champion and current national point leader, left no doubt about his superiority in the class Saturday on championship night of the 2016 Speedway Motors WISSOTA 100. Thell crushed a field of 21 Mod Fours in the division's nonstop feature event.
That was the question going into Saturday night's championship feature race at Dakota State Fair Speedway. The answer was a resounding no.
Thell, who won his heat race on Friday, then the qualifying feature which gave him the pole for the championship feature, also won his AFCO Race Of Champions event, so he was in line for an extra $2,000 payoff with a Saturday night feature win.
Thell rocketed to the point on the opening lap and, barring a mechanical failure, served notice he intended to win. He immediately built up a sizeable lead. On the first lap, Brian Welch spun his #502 car but the race continued and he accelerated away. Laramie Peiker started sixth – outside of row two in the three-wide start, and forged ahead to make it three-wide with front row starters Jamie Flickinger and Tyler Larson. Peiker emerged the winner of that little scrap and put Flickinger and Larson behind. Flickinger also got the best of Larson temporarily and took over third.
Chad Funt and Dean Larson duelled side by side ahead of Justin Will and Trever Roediger and all four gave chase to Tyler Larson. They spent several laps in tight formation, which provided the best action on the track through the middle of the race.
Thell hit lapped traffic just before the midway point and he was a half straightaway ahead of Peiker at that point. He had been running right in the middle groove and hit his marks lap after lap as he stretched out his lead.
Jaiden Floate had a mechanical problem and slowed on the track, but as he limped off to the pits, the race stayed under green.
Thell slashed past three lapped cars in quick succession and as he did it, he actually continued to build on his lead. Similarly, Peiker was way out in front of Tyler Larson, who had taken over third from Flickinger.
Thell was a full straightaway ahead of Peiker with five laps left out of 20. Tyler Larson was comfortable in third but behind, Matt Halls had begun to challenge Dean Larson; Halls had started in the middle of the sixth row of the feature.
Funt, Halls and Dean Larson ran in close formation as the laps wound down and didn't settle things until the final trips around the DSFS oval.
Thell lapped all the way up to the 10th place car as he raced to the dominating win with Peiker second in a very strong showing. Tyler Larson crossed third and Dean Larson got past both Halls and Funt to secure fourth place. Funt was fourth and Halls fifth, followed by Roediger, Will, Tommy Manning and Forrest Foster in the top 10.
"I?couldn't have asked for a better car," Thell noted in victory lane. "I have wanted to win this race for seven or eight years now."
He added, regarding the nonstop performance by his division, "Fans don't like seeing cautions. They don't wanna just sit here."
SUMMARY
WISSOTA Mod Fours:
Feature – Keith Thell, Laramie Peiker, Tyler Larson, Dean Larson, Chad Funt, Matt Halls, Trever Roediger, Justin Will, Tommy Manning, Forrest Foster, Todd Pudwill, Steve Schicketanz, Erik Williams, Ryan Hasbrouck, Duane Manning, Steven Swingle, Shelli Lind, Brian Welch, Jamie Flickinger, Jaiden Floate, Clint Jensen
Back to News