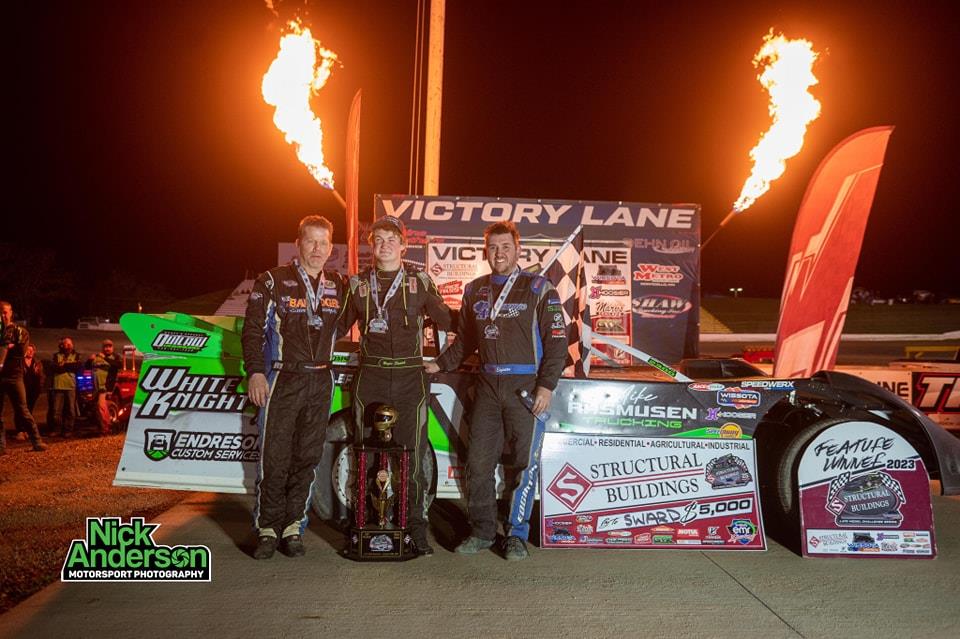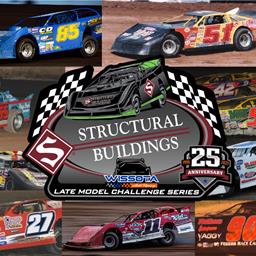 6/1/2023
Wissota Late Model Challenge Series
---
Sward Storms to 2023 Challenge Series Opener at I-94 emr Speedway
The 2023 season for the Structural Buildings WISSOTA Late Model Challenge Series went green on Friday, May 19th at the I-94 emr Speedway in Fergus, Falls, MN with a stout field of 34 competitors in the field and young 19-year-old Bryce Sward defending his home turf and rolling to a $5,000 victory when the night's final checkered flag flew.
Multi time series champ Pat Doar set the fastest lap of the night and won the $100 CMD Race Shocks Shock the Clock Award with a time of 16.069 seconds to start the night. Qualifying heat races went to Jake Redetzke, Cole Schill, Bryce Sward and Darrell Nelson with Josh Zimpel winning the night's b-main.
Hermantown, Minnesota racer Darrell Nelson and Nelson, MN pilot Bryce Sward paced the 40-lap feature field to green and after Nelson took off into the lead on the start, a pair of caution flags flew during the first four circuits, keeping the field bunched tight for the third restart on the night. On that restart, Bryce Sward, who restarted on the outside of the second double file row, blasted into turn one on the cushion and rolled from his third starting spot into the lead and proceeded to disappear into the night, building up a near three second advantage over a great battle for second between Nelson and 8th starting Shane Edginton, who ran nose to tail and door to door for runner up honors throughout much of that 40-lapper. Sward remained solid out front pulling away from the Nelson-Edginton battle throughout the waning laps of the event, while Sam Mars, Jake Redetzke and Pat Doar were in a great tussle just outside the top three as well.
Nelson began to carve into Sward's lead while lapped cars were slowing Bryce's progress as Nelson cut Sward's 2.6 second lead down to just over a second, but once Sward was able to clear traffic he rolled back away from the field and raced to Mike Blom's checkered flag with a substantial 2.236 second victory. Nelson crossed the line in second with Edginton, Mars and Redetzke rounding out the top five. Dustin Sorensen rallied from his 14th starting spot to cross the finish line in 8th to win the night's Hard Charger award.
Braden Brauer won the WISSOTA Street Stock feature, Mike Nichols won the WISSOTA Midwest Modified main event and Shawn Beto won the Short Tracker feature event to wrap up the night.
Full results: https://www.myracepass.com/events/457740/races
The second series event of 2023 is scheduled for Saturday, May 20th at the Ogilvie Raceway in Ogilvie, MN with a 6:30pm start time.
---
Submitted By: Camryn Sullivan
Back to News